The Adjei Biannual(ish)
March 2009
Stung by a Caterpillar and a Rat on my Head...
...not both at the same time thankfully, but both true! I have always heard that hairy caterpillars can sting but never took much notice. Well it is true! My foot brushed up against one as I was walking along the street the other day. It was bright green and VERY hairy- a bit like a muppet. Well a few seconds later I felt like my foot was on fire. I dutifully found an empty bag and pushed it into it with a stick to take home in case it turned out to be really poisonous. Anyway it wasn't, as within half an hour the pain went. We then continued to keep the caterpillar in a glass as a pet for the next few days. Lily dubbed it a "nake" and before long we were all referring to it as a snake.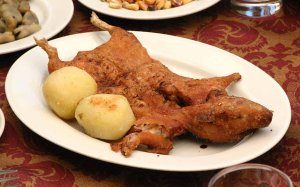 Now the rat business is a looong story- stretching over several days- but to cut to its final hours.. David and I woke in the night to a thud and some scrabbling around in my hair. Our resident rat had fallen off our headboard onto my head!!!  I was surprised at how calmly I reacted- but we did spend the rest of the night with the lights on. The next morning when I was in the kitchen I heard it in the drawers. David later took out each drawer one by one- with our 2 cats standing by. He eventually found it in the top drawer nestling in with all our cutlery! One cat took one look and ran and the other showed no sign of doing anything brave... you can ask David what HE then had to do next time you see him....
---
Trip to Mexico
In November we were able to go as a family to Mexico to attend "Fiesta"- a yearly Newfrontiers conference. It was a lot of fun for all the family and we were so well looked after and made to feel so welcome. Jasmine and Gaby made friends and were very happy to go off to their own meetings. Even Lily went to the nursery class and left us free to be able to concentrate in the meetings which felt like such a luxury!!!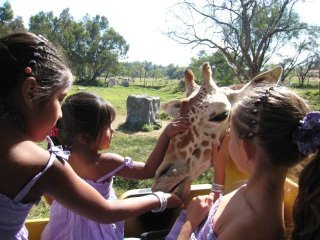 After the conference we went to the beach for 5 days for a family holiday and then back to Guadalajara to spend a little more time with people from church there and to visit the zoo!! (The journey to Mexico was 4 flights so we wanted to make the most of it!!!) We had such a great time and Jasmine and Gaby are fairly determined to be going back every year (which they have not yet accepted will not be possible!) The time away was for so many reasons a highlight in our family life and I hope we will be able to do it ALL again one day.
---

Church
Last time we wrote we talked about the need for a new building. This continues to be a need- especially over the last few weeks when our numbers have been greater. We still do not really know what to do. The building that David wrote about last time is still for sale- but we have neither been able to know if this might be the right one for us or if so how to go about getting it. Our other options are to try and rent a bigger place just for Sundays or aim for a bigger property to rent full time. Our idea would still be to try and stay central in the city so that it will just be one bus journey for everyone.



As far as the people of the church are concerned we have had many ups and downs- as always!!! There has been quite a lot of sickness around Santa Cruz with the dengue epidemic (dengue is a disease passed on by mosquitoes. It is fairly common each summer in Santa Cruz but even the BB C have described what we have here just now an epidemic - 31,000 cases). We have had several people from church ill with dengue, one of whom almost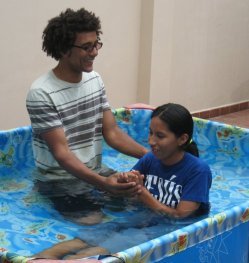 died as it was complicated by other illnesses. Two ladies from church have needed gall stone operations and another lady (Suzanna) has suffered a stroke.  What is so hard is that she is only 40 years old and has a 7 year old daughter. Her stroke happened 2 months ago and after the initial very difficult days she has been making a good recovery. She first started to talk again and then a few weeks ago started walking.  Some of her family have been telling of how faithful God has been. Their faith is strong and we want to ask that you pray for them that they will continue to see Susanna healed.
We were so happy 2 weeks ago when Heidi was baptised. Heidi is one of the girls who was once in El Alfarero. She left the home a couple of years ago because of some problems. Through her coming to church we've kept in contact with her and recently she started to feel that she wanted to take the step of being baptised. It's very encouraging and exciting for us to see an important part of the vision for the church being fulfilled as another ex street kid is baptised surrounded by people who accept, love and understand her.
---

El Alfarero
In November there were some problems in the girls' home, resulting in several of the girls leaving which was a sad and stressful time for everyone involved. In fact our Gaby found this incredibly hard, one of the girls who left was one of her friends who she played with each week when we visit. Poor Gaby was inconsolable for a while. Some of the girls that had been there for a long time, one for more than 2 years, left. Since then it seems that things quickly stabilised again and several of the girls have been able to start school again this year.


---

Rhian
We have a friend from our home church in Uckfield staying with us for 3 months. Rhian (18) came last year for a few weeks along with a friend. Since coming back this time she has become more involved in several areas of work with the YWAM street kid ministry and with our church. She is great with music and is teaching keyboards to a boy in church and helping David establish a worship group. She is also playing the keyboard at every opportunity in meetings. As a family we are really appreciating the fact that she just doesn't tire of our girls. In fact I think she might be Lily's new best friend!


---

Our Family and New House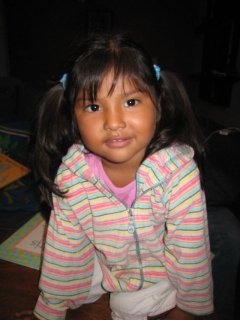 Jasmine and Gaby have just 2 months left of school now and then we will be flying off to England - first to celebrate both my parent's 70th birthdays this year. And when I say celebrate, I mean in style! Mum and Dad are taking us all (my sister and my brother and his family) on a 5 day cruise. (You know there is actually an ice-rink on the ship?!) Then we will be a couple of months in England before we return here to our new house. Yes, we have finally got round to it. We have bought land and, as I type this, foundations are being laid (literally). So please consider yourselves all invited to come and stay at "Casa Adjei".
Bye for now and thank you once again for  your support
With our love, Sarah, David,
Jasmine, Gaby and Lily
 xxxxx

A translation of this page does not yet exist, please create one before continuing